Roasted Specialty Beans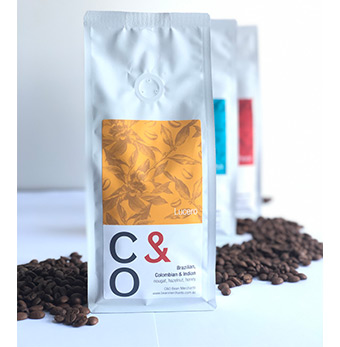 Lucero
Country: Brazil, Colombia, India
Bag Size: 250gm, 1kg
Notes: Lucero, meaning bright star, shines as the leading blend on offer. Brilliant, bold flavours of nougat, hazelnut and honey, light up every mouthful.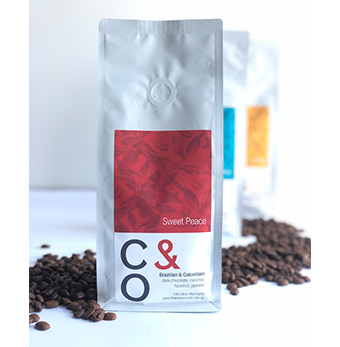 Sweet Peace
Country: Brazil, Colombia
Bag Size: 250gm, 1kg
Notes: Representing peace between two historically conflicting regions, Sweet Peace is a blend of Brazilian and Colombian beans, giving a full bodied, medium acidity cup with highlights of dark chocolate, caramel hazelnut and jasmine.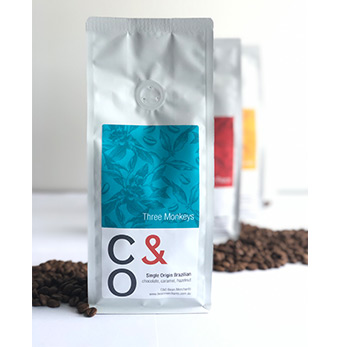 Three Monkeys
Country: Brazil, Single Origin
Bag Size: 250gm, 1kg
Notes: Our single origin medium roast gives the pleasure of a very clean cup, perfect for an espresso or long black, with chocolate, caramel and hazelnut notes, Three Monkeys is a cheeky trio of delicious flavours.

Frequently Asked Questions
Do you offer samples?

Yes. We provide samples as either green or roasted beans.

Do you have a minimum order quantity?

Our minimum order quantity is a 60 kg bag.

How is your coffee priced?

Our coffee prices are based on the coffee futures and currency market and change daily.
What are your shipping costs?

Our pricing includes shipping for orders of 8 bags x 60 kg (or equivalent weight) within the Canberra area.

Do you offer credit terms?

Upon successful approval of a credit application we offer terms of 21 Days.

Do you charge credit card fees?

If you are paying before the order ships there is no fee to use a credit card.